EXCLUSIVE SCIENCE FICTION COLLECTIBLES & GEAR
Unbox a surprise bundle of collectibles, apparel and gear from the biggest sci-fi movies, TV shows, games and more delivered to your door quarterly!

HOW IT WORKS
Each crate features a full franchise takeover by one of the biggest and best science fiction franchises. Unbox official collectibles, apparel, gear and more every 3 months!

DELIVERY FREQUENCY
Delivered every 3 months
DELIVERY WINDOW
This crate ships End of April 2023

ORDER BY DATE
Order by 4/15 at 9:00pm PT to get this theme!
LOOT SCI-FI
Get licensed and exclusive sci-fi collectibles and gear in each crate.
Order by 4/15 at 9pm PT.
Supplies are limited.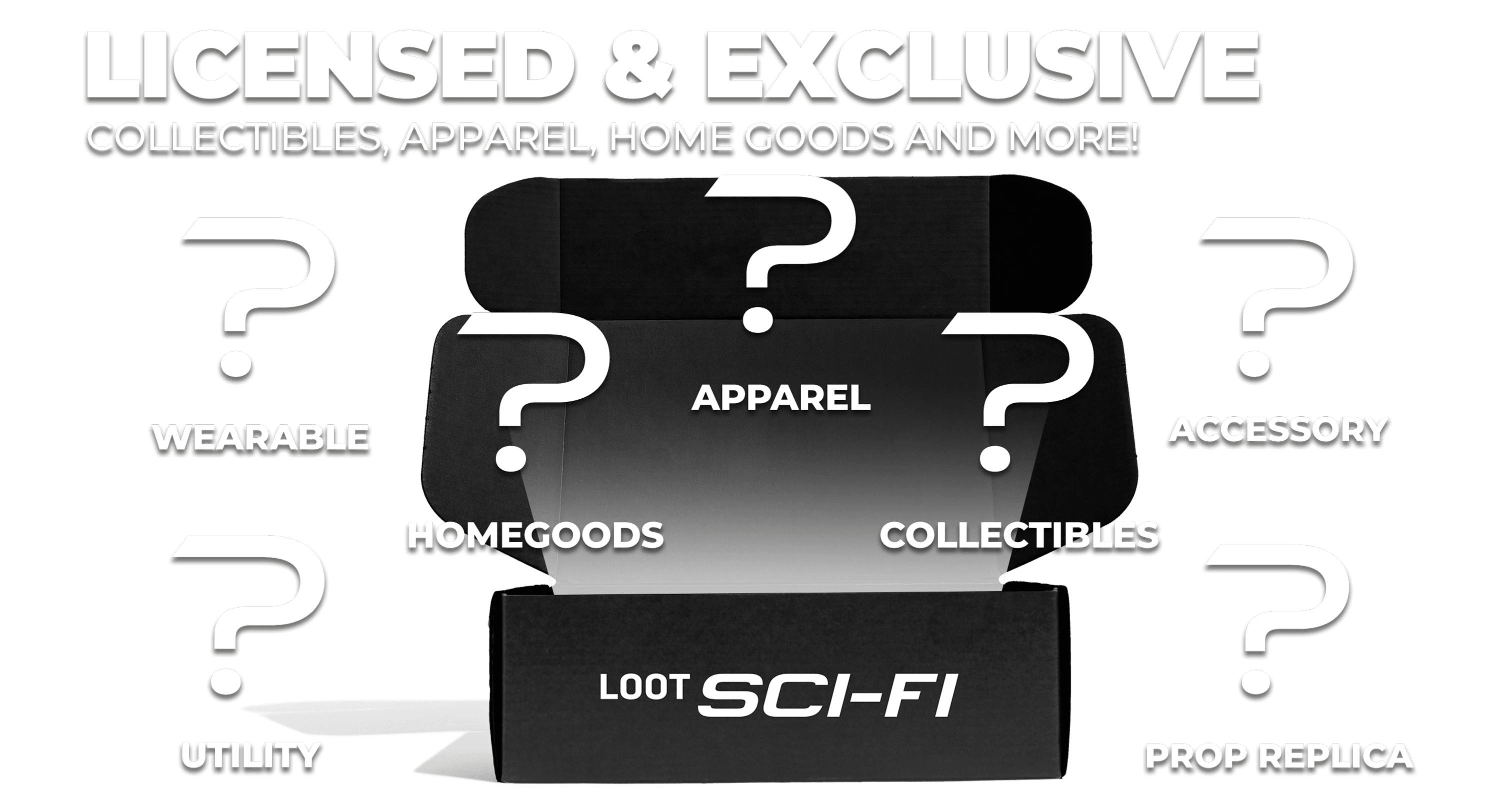 FREQUENTLY ASKED QUESTIONS
Is this a recurring subscription?
Yes. Loot Sci-Fi is a recurring quarterly subscription, meaning that you will receive and be charged for crates every billing cycle unless you cancel your subscription. A 1-crate plan means you get billed every 3 months.
What forms of payment do you accept?
We accept Visa, Mastercard, American Express, Discover and Amazon Pay (U.S. Only).
Where do crates ship to?
We ship to all U.S. or APO/FPO addresses. We also ship internationally to the following countries: Argentina, Australia, Austria, Belgium, Canada, Czech Republic, Denmark, Finland, France, Germany, Hungary, Iceland, Ireland, Israel, Italy, Japan, Luxembourg, Netherlands, New Zealand, Norway, Poland, Portugal, South Africa, South Korea, Spain, Switzerland, Turkey and United Kingdom.
How do I cancel?
Cancelling is easy! Log into your account, click "Cancel" and then confirm your choice.
THE ULTIMATE CRATE FOR SCI-FI FANS
Do you dream of blasting off in a spaceship, fighting robot overlords, traveling through time, or wielding a laser sword? Get exclusive science fiction gear from Loot Sci-Fi!

ORDER
Select your size and place your order for these exclusive collectibles

SHIP
Crates will be teleported to your door every 3 months

ENJOY
Unbox your crate and share your experience with the #LootSciFi community